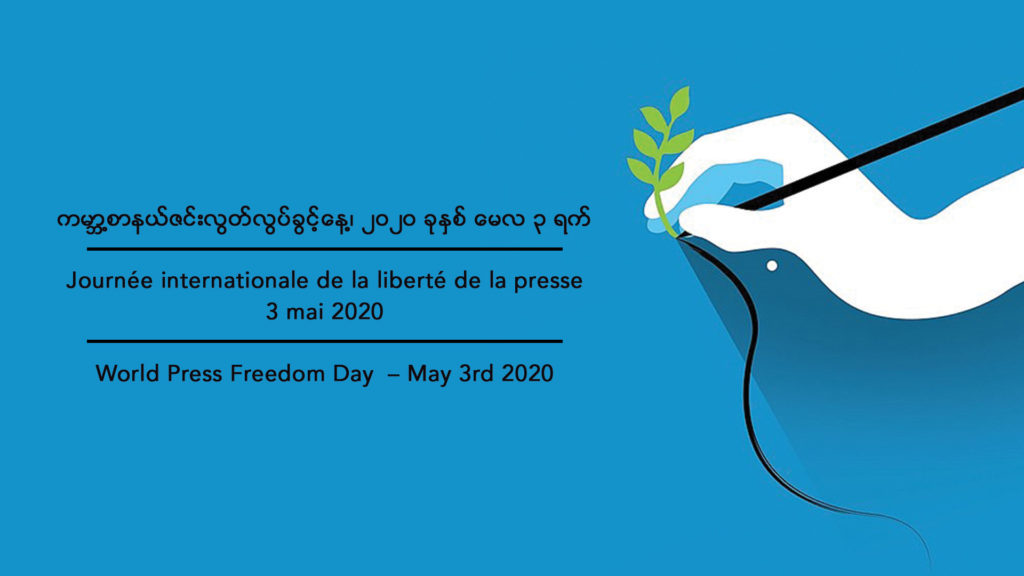 World Press Freedom day – May 3rd 2020
Current situation in Myanmar and action of the French Embassy
On the occasion of World Press Freedom Day on May 3rd, the Embassy of France in Myanmar would like to celebrate the fundamental principles of press freedom and reaffirm its commitment towards the defence of media independence and the rights of journalists all around the world. Infringement of press freedom and threats on media independence can prove critical in the context of the COVID-19 crisis and the general elections to come. It is essential to guarantee access to free, independent, pluralist and reliable information to overcome these challenges.
This year's World Press Freedom Day theme is "Journalism Without Fear or Favour". Without fear because every journalist, in every country in the world, must be able to do their job without being afraid of potential consequences. Without favour because media must be protected from any external pressure in order to guarantee free and independent information. These are two essential requirements to press freedom, that we must guarantee to journalists, in Myanmar, like everywhere else in the world.
Press freedom in Myanmar
The situation of press freedom in Myanmar has significantly changed over the past ten years. Media in Myanmar still suffer from alarming constraints. In Reporters Without Borders' 2020 World Press Freedom Index, Myanmar is ranked 139th out of 180 countries.
First, the legal and institutional framework is an impediment to freedom of the press. To date, the Myanmar government has not abolished any of the repressive colonial-era laws, which are still being used to convict journalists. Laws on unlawful associations, on telecommunications and on official secrets are major constraints on press freedom. As a result, journalists in Myanmar still face legal proceedings. The intention is to intimidate media professionals, who then practice self-censorship to avoid any problems with the authorities. The latest cases of arrests are three editors-in-chief – from Voice of Myanmar, Khit Thit Media, Narinjara – charged with violating anti-terrorist laws after broadcasting interviews of a spokesperson of the armed ethnic group l'Arakan Army (AA).
Another element that undermines press freedom is censorship. Press freedom has again been threatened in recent weeks when the government ordered to block access to over 221 websites, including several independent and ethnic media, with hundreds of thousands of readers in marginalized communities in Karen, Shan and Rakhine states.
Finally, in June 2019, the authorities imposed an internet shutdown in nine townships in Rakhine and Chin states, under Section 77 of the Telecommunications Act. Although this shutdown was partially lifted in five townships in August 2019, it was reinstated in February 2020. This shutdown is a severe infringement on freedom of expression and information.
Our projects to promote press freedom in Myanmar
France supports the democratic transition in Myanmar, and this means promoting and defending press freedom, through a number of projects.
In 2014, in a political context marked by the arrest of several journalists, the French Embassy played a paramount role in the creation of the Myanmar Journalism Institute (MJI), the first ever training institution for media professionals in the country. This initiative came after a request from the Myanmar government, and resulted in a coordinated response between France, Germany, Denmark and Sweden, in cooperation with UNESCO. The emergence back then of a pluralist and independent media landscape revealed the need for the training and professionalization of Myanmar journalists all around the country. To this day France is still supporting the MJI, for example through scholarship schemes aimed at training journalists from ethnic areas. In 2019, the Embassy of France funded the tuition fees of 16 full-time students from 8 different ethnic areas, as well as trainings for 21 journalists from ethnic areas.
The French Embassy also supports the "Journalism and Culture" initiative, a two-week training program developed as part of the annual film festival "MEMORY!", one of the main cultural events in Myanmar, whose theme in 2018 was "press and democracy". Journalistic training is provided in collaboration with the MJI. The aim is to train Myanmar journalists to cover subjects related to culture, a pillar of all democracies.
France also supports projects aimed at training journalists in more specific fields, such as sustainable development. The "Journalism for Sustainable Development in the Mekong Region" project was launched in 2019, for a duration of two years. Implemented by CFI (Canal France international), the French media development agency, it aims to improve the coverage of topical scientific issues that are often poorly or not reported on in four countries of the Mekong region, including Myanmar, which is particularly affected by climate change. The work of journalists is essential in order to raise awareness and inform the population about the challenges of sustainable development.
The French Embassy in Myanmar has been supporting the Photodoc organization, which organizes the renowned Yangon Photo Festival, since its beginnings in 2007. Photodoc trains Myanmar citizens, from various ethnic areas, to investigate and document through images a wide variety of subjects, from human rights to the social and legal system or the environment. Thanks to the support of the French Embassy, Photodoc was able to organize training workshops and the first documentary photography festival in Kayah State in 2018.
Finally, the French Institute in Myanmar organizes and hosts regular events to promote press freedom. For example, in December 2019, the IFB organized an exhibition on press cartoons entitled "Drawing Freely", gathering press cartoons from more than 50 different countries, with a special focus on Myanmar. In the framework of this exhibition, a round table on the role and condition of press cartoonists in Myanmar was also organized, allowing to tackle subjects such as censorship, self-censorship and the missions of cartoonists.