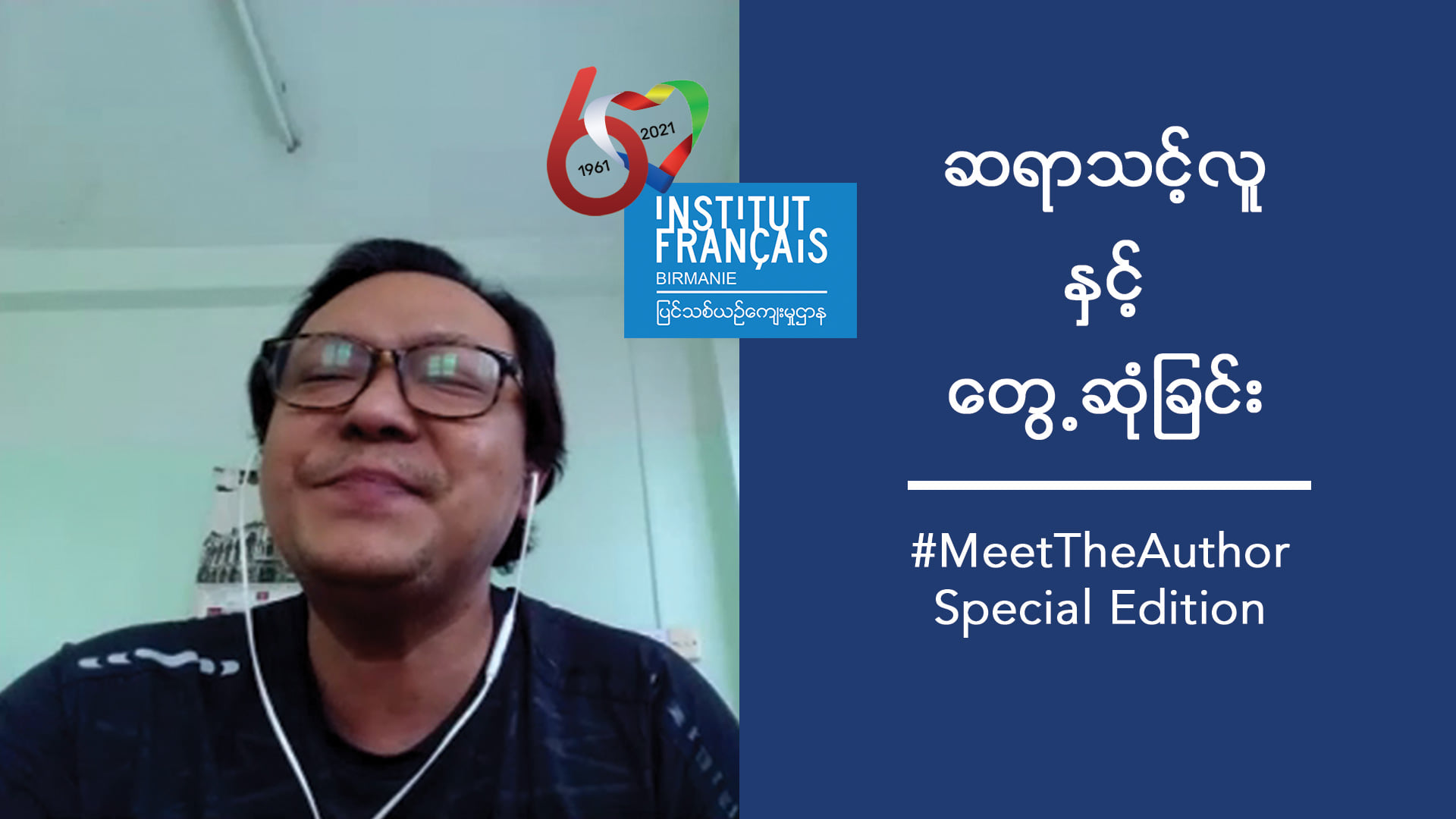 Mingalarbar Sayar! Welcome to #MeetTheAuthor Online Literary Programme. We're very grateful for your participation. As the first question, could you please tell us how you happened to take your pen name "Thint Lu"?
Yes, I'm also glad to be with you all. I'm a physician. My real name is Thant Sin Htoo. I'm currently serving for the Ministry of Health and Sports as the deputy permanent secretary. In 2010, I managed to publish a Public Health Introductory book, namely "People who bell the cat". That's how I started my writing journey and took my pen name. Actually, I got that name since the time when I passed my Matriculation exam. At that time, I sent my short stories and translated short fictions to Magazines.
Before and during my university student life around the 1990's, I happened to encounter the university's closure due to nationwide unrests and strikes. So, what did I have to do during that free time? Of course, I did what I wanted to. There was no Internet or email at all at that time. I took language courses and read books from the U.S. Embassy in Myanmar. By reading those books of famous American authors such as Edgar Allan Poe, Washington Irving, Jack London and so forth, I felt like I wanted to translate them. I wasn't sure at all whether there had already been Burmese translations for those books by other writers or not. I simply did just to fulfill my thirst to translate.
After publishing my very first book on Public Health Introduction in 2010, I worked on the translation of "One Hundred Years of Solitude", written by world renowned Colombian writer, Gabriel García Márquez. Upon its completion, I had to submit my translation works to the Media Censorship Board at that time. It took a year for them to reply to me "We don't understand what you're writing in the book. Give us a 3-page summary instead!". They should have asked me a summary instead of my 500-page work in the first place. However, I had no right to make such a complaint, but to comply with their demand. While waiting again for the new reply from the board for 6 months, the Media Censorship Board was disbanded by the new Government. All the doors were open for me except one issue which was to publish my book.
At that time, no publisher took a risk to publish a book of a newcomer like me. So, I tried to self-publish it with my friend who has a publishing license. We didn't know how the distribution worked at all because my friend's publishing house intended just to publish "private/ not for profit" books. All publication and distribution expenses were on our own. To be concluded, it was how Thint Lu entered the literary translation world 10 years ago.  
If we categorize your translated works by authors or by countries of origin of the books, we can say that there're genres of Márquez from Colombia, Murakami(s) from Japan, Jonas Jonasson from Sweden, etc… So, on which books you were so elated to work or on which you felt like you would like to stop translating at once?
Thank you for this question. The reason I became a literary translator is because no one has translated those books I wanted to read. So, I did the translation myself and I felt perfectly delighted to do so. As I told you, I got a full-time job for which I have many responsibilities to bear to develop the Myanmar Health Sector. I was so absorbed in it that writing became a leisure activity for me although I managed to publish quite a number of books. 
Last year, I thought and reminded myself that I couldn't continue like that. If I am to be a professional writer, I must work like a professional. I talked to my publishers about delivering my works to them on time. The other issue is that I'm so lazy to do the editing after writing down the whole book. I always assumed proofreading and editing are jobs for proofreaders and editors. However, here in Myanmar, it doesn't work like this at all. Nowadays I take my own responsibilities to finish my work from head to toe, that includes proofing and finalizing it on my own.
I entered the literature world by translating Magical Realism genre. To be exact, Magical Realism of Latin America – Spanish literature world. I translated works of García Márquez – "100 years of solitude", "Love in the time of Cholera" "In the evil hour" and "No one writes to colonel and other short stories. They can be categorized as Márquez's genre. 
The second category is Surrealism, Psycho Thriller and Japanese Fiction. It has its own unique characteristics as well.  Of course, I like it. As a result, I like the works of Japanese writers Ryu Murakami and Haruki Murakami. For Haruki Murakami, I just translated only one of his books "The Wind-Up Bird Chronicle" because so many people have been translating his books. I decided to work on the books of Ryu Murakami, with whom Myanmar readers were not very familiar. In the Abstract-Postmodern and Metafiction category, there are Han Kang from Korea and Sayaka Murata from Japan. I translated one book each of them – "The Vegetarian" of the former and "Convenience Store Woman" of the latter. Those kinds of work can be categorized into Contemporary Literature with Modern and Postmodern styles.
The third is the works of Jonas Jonasson from Sweden. They belong to Political Satire which I love most. When NDSP Publishing house made a contractual agreement with Jonas and his agent for translation rights, they gave us unconditionally full rights to translate all of Jonas's books which even include the permission to translate upcoming books in future. 
The other category is Romance and Modern Classic. I've worked on the trilogy of Jan-Philipp Sendker from Germany, who also gave me translation rights. That was quite special because the author himself met me and gave the rights to me personally. 
The current translation work I am now on is a series of books called "The Cemetery of Forgotten Books" by Spanish writer Carlos Ruiz Zafón, who just passed away this 19th June due to colorectal cancer. The first book "Shadow of the wind" from the series of four books has just been translated and is being proofread at the moment. They belong to the Gothic genre. In all four books, the characters remain the same but they live in different times, different angles and different perspectives.
So, I've worked on all types of genres. After publishing 35 books, now I can affirm solemnly that I am a literary translation writer. 
You have the full-time job; at the same time, you read and write a lot. Now a new generation of young people who are interested in translation literature is emerging. For them, could you please share with us how you have dedicated yourself to your literary work?
Well, let me tell you that I have to work it out on purpose. In the 2000's, there were not many active literary translators, as well as translation works. But, a lot of contemporary novels were being published around the world. "From the Land of Green Ghosts", written by Pascal Khoo Thwe gained huge international applause. "The White Tiger" by Aravind Adiga won the Booker prize. "The Wind-Up Bird Chronicle" by Haruki Murakami was translated into English in 2001. Here in Myanmar, very few people were aware of them. 
It might be due to several factors – difficult access to the books, unavailability of Burmese translation or media censorship. Moreover, there was a nom here that books to be translated had to be those of best sellers or classic; for examples: Sir Rider Haggard's books, "Robinson Crusoe" or 19th century adventure novels. 
I thought something was wrong with it. I wanted to translate contemporary novels and hand over those works to new generation readers. We may be the pioneers to make such a path. Well, to be exact, I intended to do so. After a decade, I find that it's quite satisfactory to have made such a new path and work on it. Nowadays we can see there're many new literary translators.
What is important for us is to finish what we work on. Translation should not be taken lightly and done only if someone wants to do. Multi-tasking matters on this occasion. Of course, we have a lot of things to do apart from writing. But we must commit to all of our works.    
Translation is an art of transforming words and senses of one language into another. There might be some mistakes out of unawareness. Everyone may make such mistakes. So, we cannot say that someone is no longer fit to do the translation in the future because he made some mistakes in the past.
In those days, one cannot easily become a writer unless he sends short-stories to Magazines and gets a chance for his works to get published in Magazine first. However, more chances are awaiting new generation writers and translators as the trend has changed in these days. There're quite a number of literary projects and programme for the works of new writers to get easily published. Of course, they must have certain inborn talent as well. Without it, one cannot continue in literature works. 
---

Regarding your wittiness and eloquence in your writing, do you have to force yourself to get that style or has it happened automatically? 
Mostly, such witty words come out automatically when I am so steeped in the book. Except for some rarely used idiomatic expressions and interminably long, tricky compound-complex sentences, everything comes out from my brain so quickly that my hands have to hardly catch up with my brain. There is one problem here, which is "Making syntactic errors in Burmese". While writing words down as fast as I can just not to lose the synchronization with my brain, those mistakes could be easily made. So, what matters later is proof-reading and editing. 
I had a 13-year teaching experience in medical college, so wittiness is one of my trademarks in the eyes of my students. They even frequently tell me that reading my books is like attending my lectures as they are so familiar with my words. Again, if one focuses too much on his wit, ambiguity of the meanings follows. So, I have to monitor the balance of wittiness and conveying the essence of the original works, by picking up a habit of "Adapt and Change" in my literary translator career. This problem can be found in almost every literary translation writer. 
Due to overwhelming accesses and usages of social media, there're many easy criticisms on (arts) works of others. What do you think of it?
That is good. In every academic subject, there're critical appraisals, the process of carefully and systematically assessing the outcome of scientific research (evidence) to judge its trustworthiness, value and relevance in a particular context.
Such critical appraisal is required for literary works too; so is for translations. Unfortunately, criticism nowadays in Myanmar is still in the loop of finding mistakes. I believe such a level of criticism is also necessary before it reaches the level of critical appraisal. If the whole literature industry can be institutionalized, it would be the best and more professional approaches would emerge. If we talk about those so-called criticisms on social media, most of them are just stances of blowing one's own trumpet. To be concluded, I agree that critical appraisals and literature critics should be well-appreciated in the mainstream.
---

The other question is about technological aspects in the translation and individual practices. Could you tell us something about it?
At first, when I translated the content, there was only a theme for me that I wanted to convey the aesthetic sensation of the original work into the targeted language. Only after a certain period of time, I became aware that there are, of course, tools, do's and don'ts and methodologies in translation.
Let's say someone is specialized and graduated in all those academic subjects. Do you think he can automatically become a professional literary translation writer? No! Not really! He must also have certain inborn talent as well. In this case, I am talking about literary translators.
In general, there're two types of translations – literary and technical ones. They're not the same. To resume what we are discussing, which is literary translation, I personally believe that a literary translator doesn't necessarily stick to the literal word-for-word translation. What matters here is conveying sensations and motives behind the words into another language.
When we do the direct word-for-word translation, the essence of feeling behind those words may be gone. So, we have to choose whether we should stick to the words or to the feeling behind. I choose the latter. But it is my personal opinion. As long as we're in the framework of the original works while translating, I assume that it's the right of a literary translation writer to choose his own words in targeted language.