Digital November 2021 (Novembre Numérique 2021)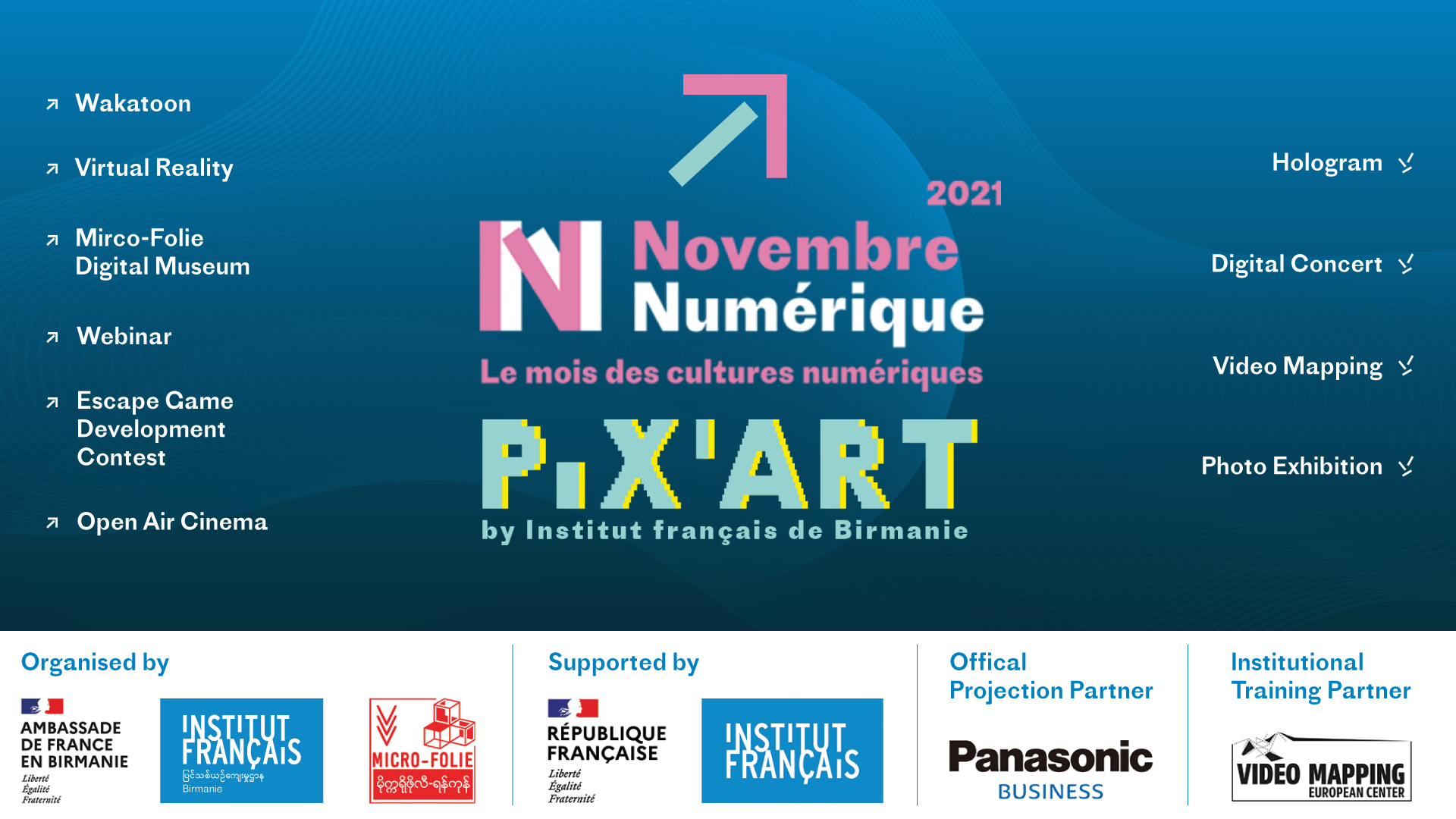 Institut français de Birmanie (IFB) is organising "Digital November 2021" (Novembre Numérique 2021), under the theme of a multidisciplinary digital festival in Yangon, from 1st November to 18th December 2021.
Digital November (Novembre Numérique), the festival of global digital cultures, celebrates its 5th edition in 2021. Since its launch in 2017, Novembre Numérique, also known as "Pix'ART Digital Art Festival" in Myanmar, has become the digital highlight of the worldwide French cultural network, shining the spotlight on digital cultures in all their diversity.
For this year, Novembre Numérique, the institute will showcase "Wakatoon" activities, a Virtual Reality experience, accesses to "Micro-Folie" digital museum, a webinar session on digital impact in Myanmar, a contest to develop an escape game, and an open-air cinema evening in November 2021. However, it is not the end yet. In a fine evening of December, our digital activities will culminate in a charming evening programme in which Holograms, a Live Digital Concert, a special Video Mapping Show and a Photo Exhibition will suit your thirst for enjoyable moments. It will be also the occasion to celebrate properly the 60th anniversary of the IFB.
Thanks to our Official Projection Partner Panasonic Business. Its generous support for the cultural programmes of IFB since 2016 is such a remarkable partnership milestone between us.
As cultural activities on IFB's premises are resuming in November 2021 after almost 2 years of a break due to the COVID-19 pandemic and the current situation in Myanmar, it reasserts the position of IFB as an active cultural centre in Yangon.
All of our activities are free of charge for everyone.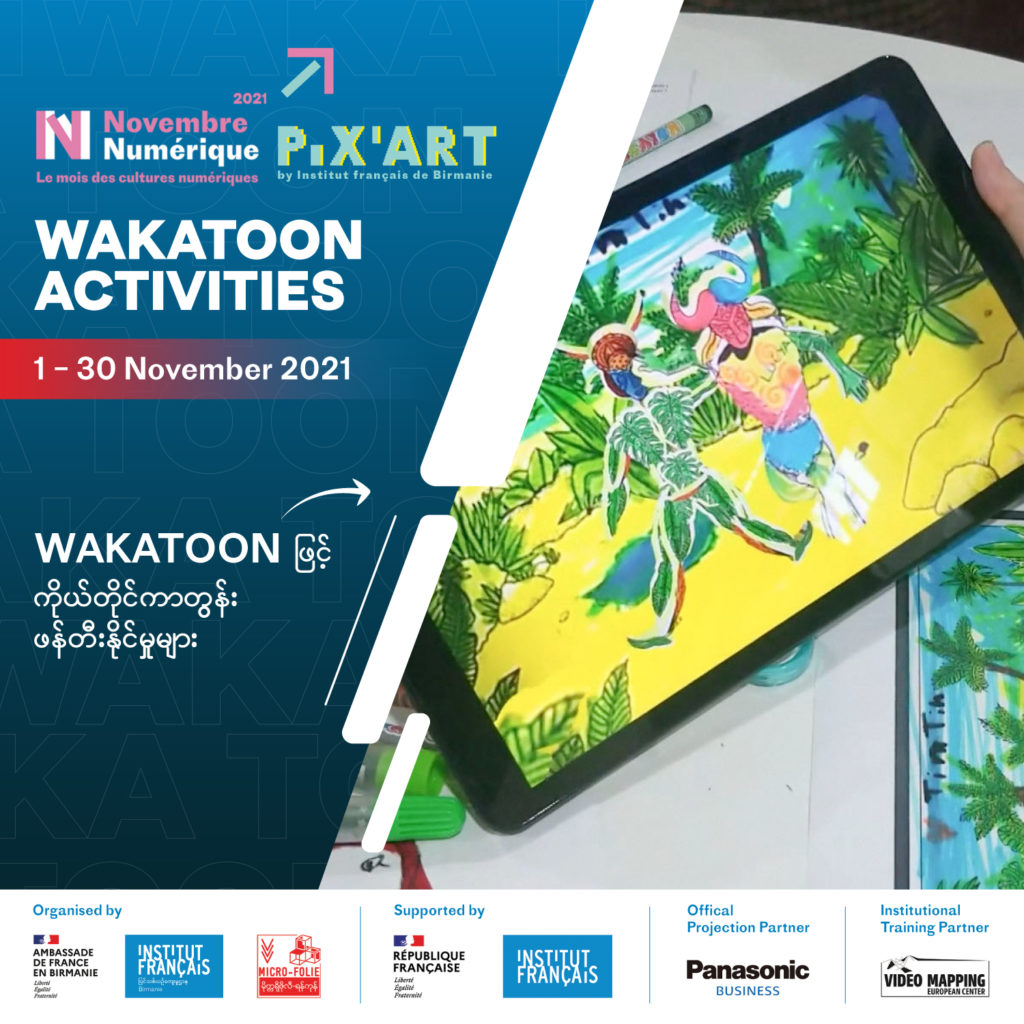 WAKATOON ACTIVITIES
1 – 30 November 2021
The Wakatoon Studio allows children to unleash their creativity into animated cartoons. The IFB provides free Wakatoon accounts and passwords for our young audiences the entire month of November.
Get colourable drawing paper from us or ask us to send you the soft copies of them so that you can print them at home.
Don't be late to let us know if you are interested in it! We only have 100 free accounts.
A free demo session can also be arranged upon request or reservation.
To get the free account and support, contact us at
To get the ticket to accessing it at the IFB
To know more about Wakatoon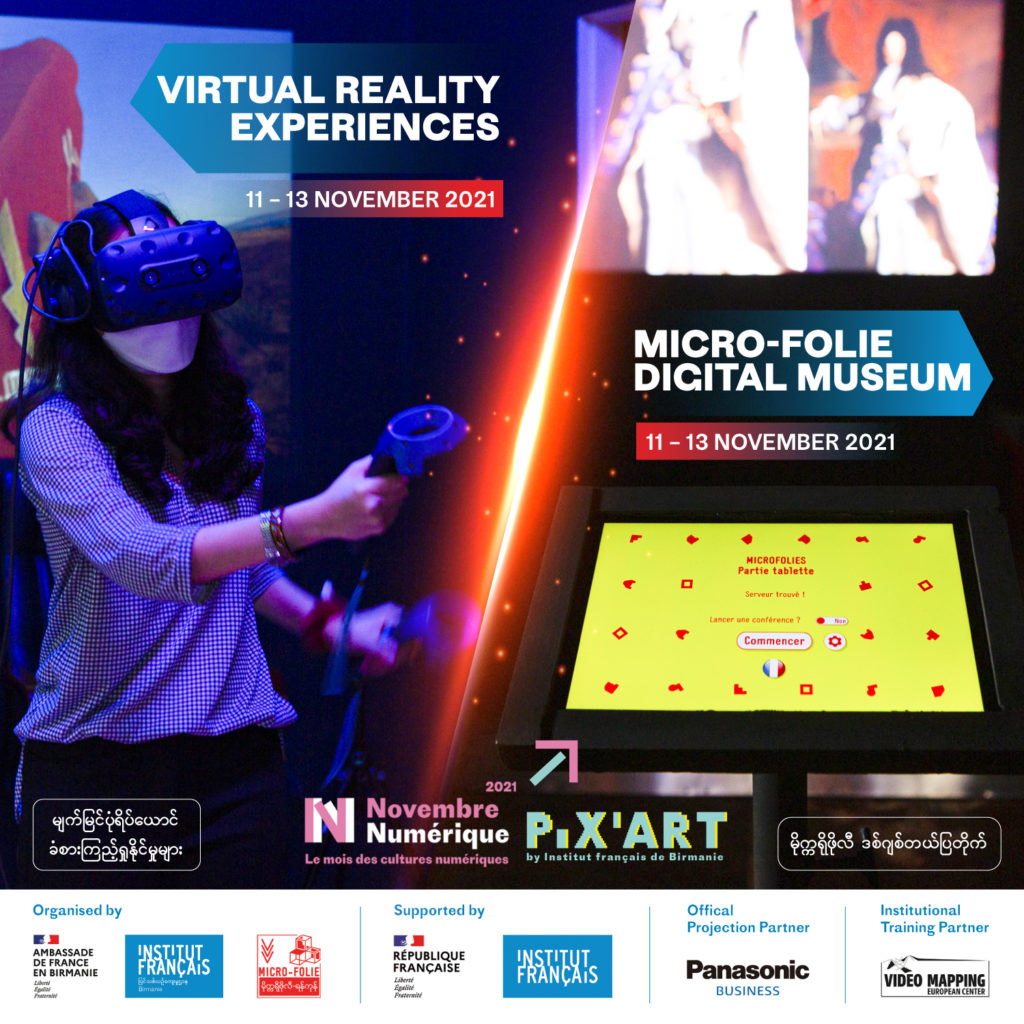 Virtual Reality Experience & Access to "Micro-Folie" Digital Museum
11 – 13 November 2021
▪ Virtual Reality (VR) Experiences
Immersive VR contents await you at our Institute's VR room, where you can experience band new adventures.
▪ Access to "Micro-Folie" Digital Museum
The Micro-Folie Project, developed by the Paris' Parc de La Villette, works to highlight hundreds of pieces of iconic art from national institutions across France in the form of a digital museum. Since the first edition of Pix'ART Digital Art Festival in 2017, IFB is proud to present you with the finest of the finest masterpieces around the world in this digital establishment.
▪ Check the available slots and get your free tickets for both VR and Digital Museum accesses at https://www.ifbirmanie.org/ticket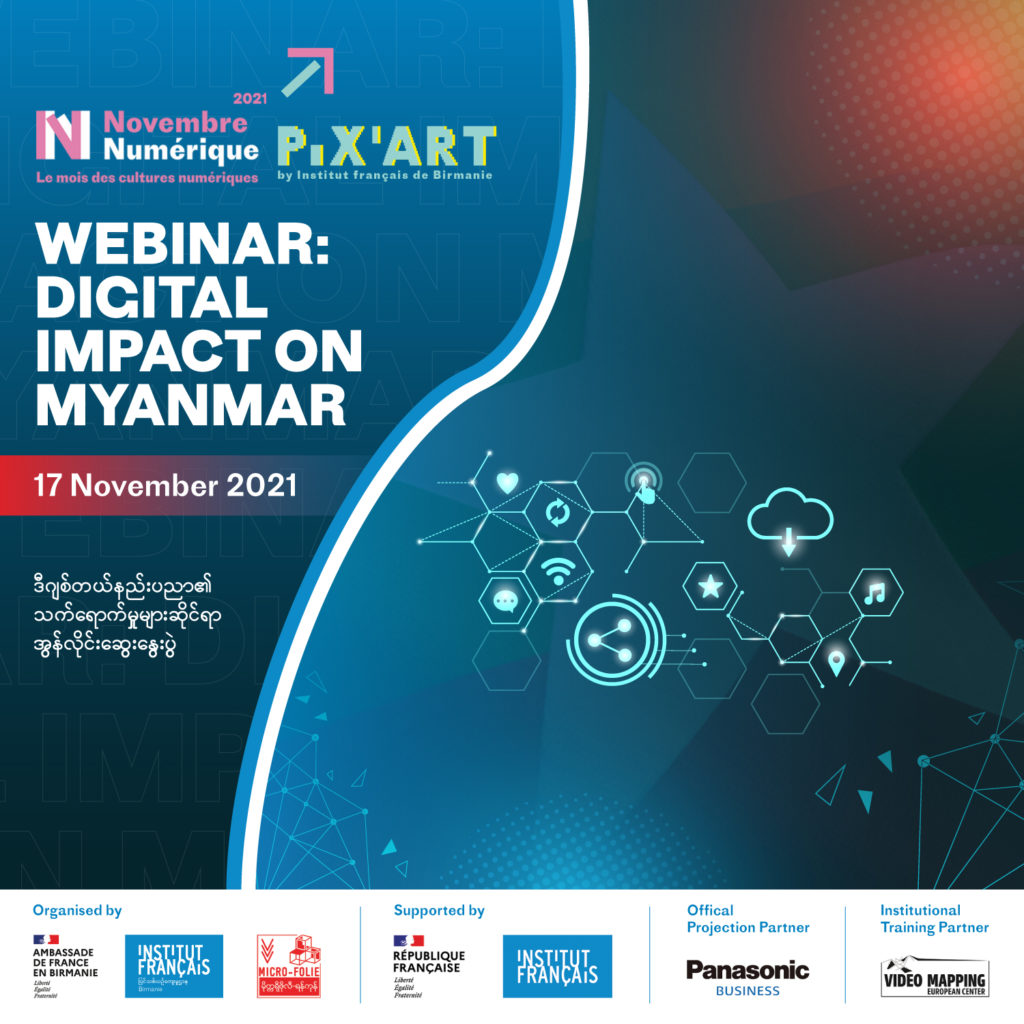 Webinar: Digital technologies | A world of opportunities and risks
17 November 2021 | 17:00 – 19:00
Digital technology has contributed to increasing exchanges between people and access to information on a global scale, to an unprecedented degree. However, the rise of new technologies brings along many challenges for States and citizens. The proliferation of fake news and the capture of personal data are two of the main issues at stake in the debate that is shaking the digital world today.
How can we better understand the issues at stake, how to ensure the respect of human rights and how to avoid the fake news trap?
Let's find out on the occasion of this Webinar, in English!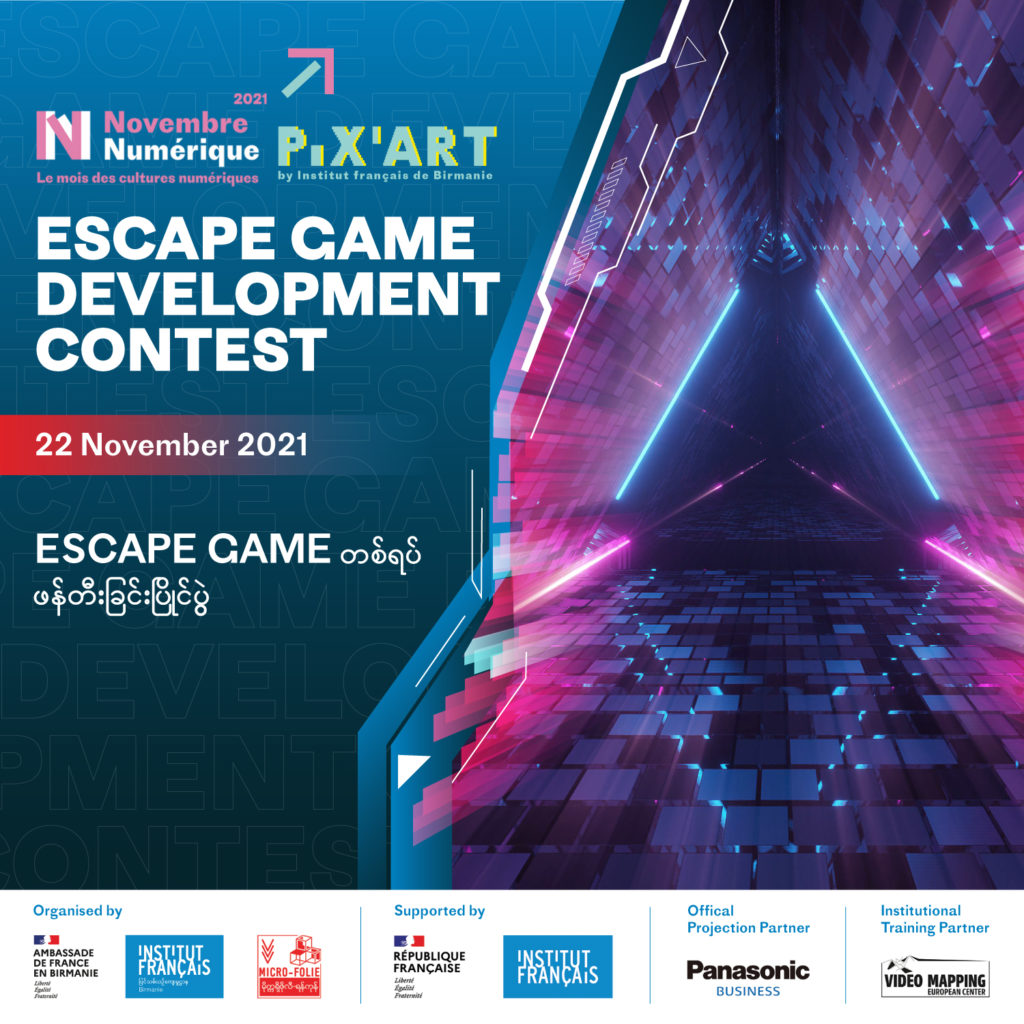 Opening of the Contest for the Development of an "Escape Game"
22 November 2021
A call for a small-web-browser-based escape game development contest will be launched on 22nd November 2021. The genre will be a puzzle-based escape game and each puzzle will be based on randomised French vocabularies with a maximum of five stages. Each stage should include 3 to 4 quests (See the detailed guidelines when announced.) Participants can use the game engine as they prefer and can take part either individually or as a group.
The prize awarded to the winning individual or team will be USD 1,000 handed out either in USD or MMK equivalent.
The duration of the development is set till 10th January 2022.
Find out detailed guidelines on 22nd November 2021.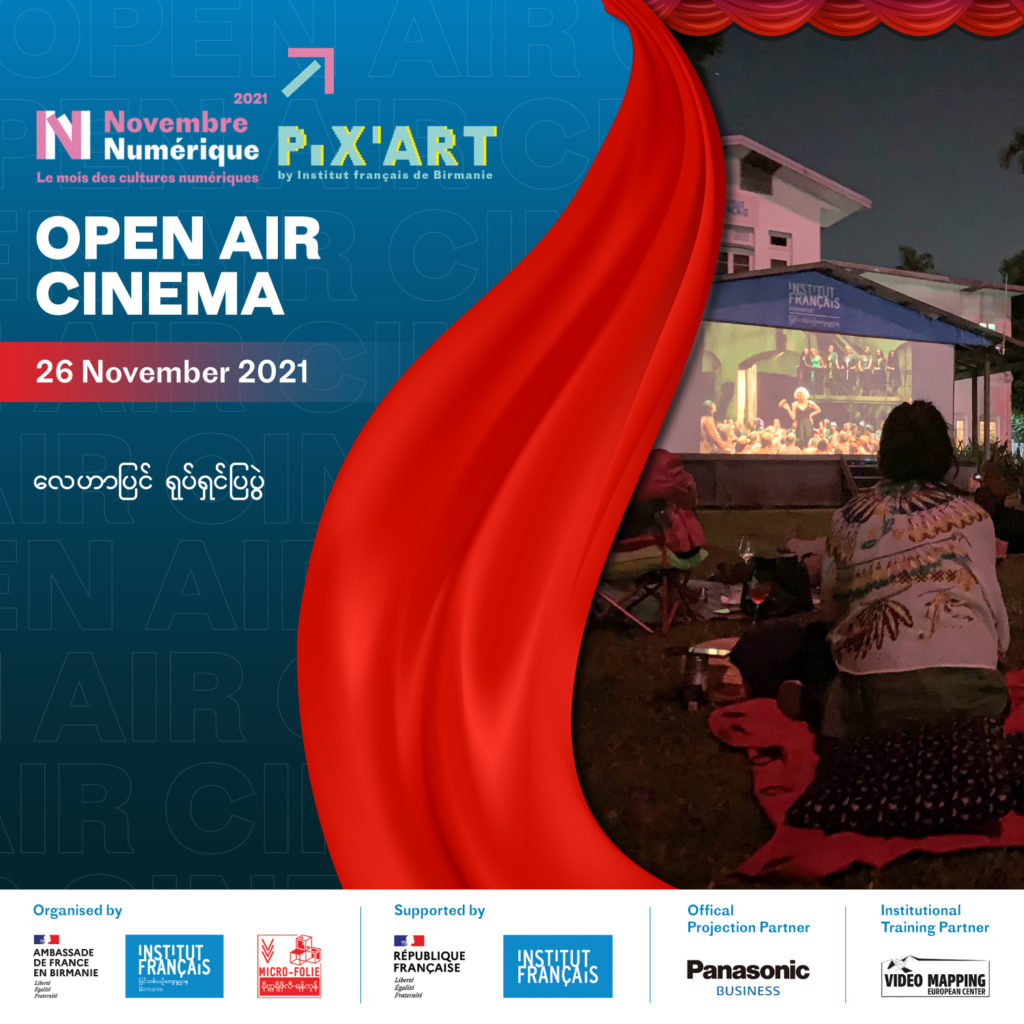 PAUL W. R.'S LAST JOURNEY (LE DERNIER VOYAGE)
13 years and above
26 November 2021 | 18:00 – 19:30
After the rainy season, open-air cinema sounds great, right?
We welcome you to join us at our movie screening under the stars and enjoy the famous French Sci-Fi PAUL W. R.'S LAST JOURNEY (LE DERNIER VOYAGE) by a young visionary director Romain Quirot.
Synopsis: In a near-future of ecological havoc, the mysterious Red Moon, excessively mined for its energy, abruptly changes course and heads straight to Earth. Paul W.R., the only astronaut capable of saving mankind, disappears at the dawn of his mission: he has discovered the secret of the Red Moon and why it must not be destroyed… Relentlessly hunted down, Paul encounters Elma, an explosive-tempered teenage girl who follows him on his quest for truth through an arid world.