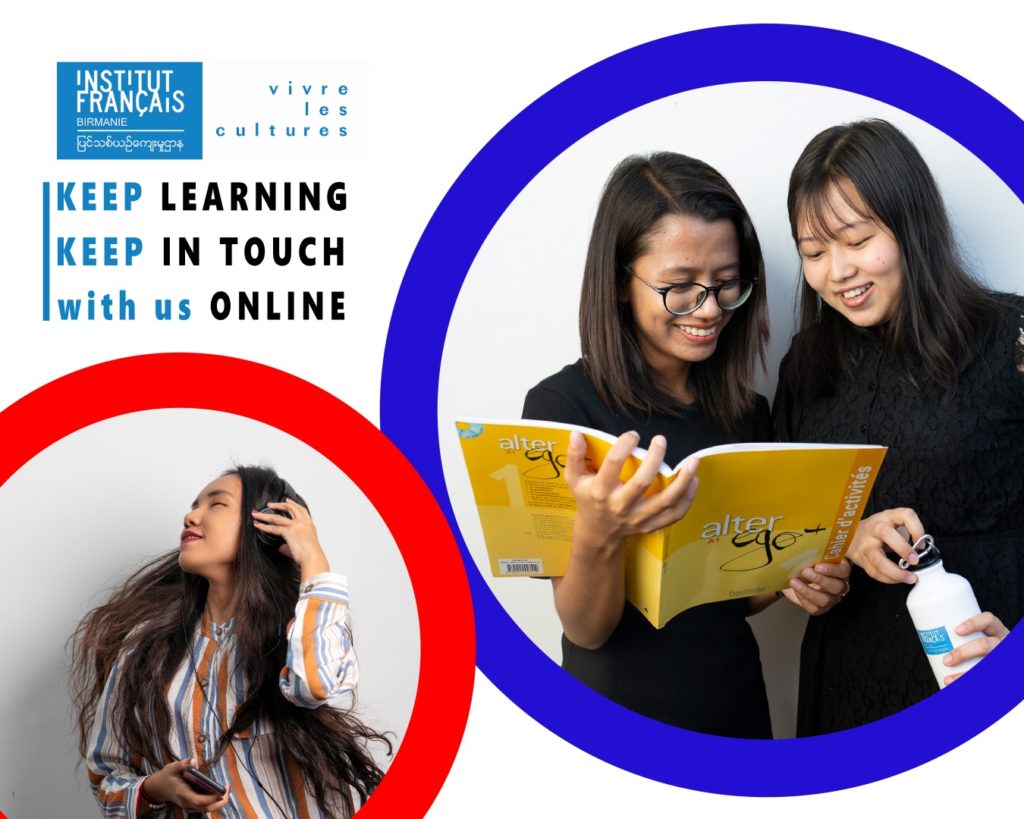 𝗧𝗵𝗲 𝗙𝗿𝗲𝗻𝗰𝗵 𝗜𝗻𝘀𝘁𝗶𝘁𝘂𝘁𝗲 𝗶𝘀 𝗵𝗲𝗿𝗲 𝗳𝗼𝗿 𝘆𝗼𝘂 𝗮𝗻𝗱 𝗶𝘀 𝗼𝗳𝗳𝗲𝗿𝗶𝗻𝗴 𝗼𝗻𝗹𝗶𝗻𝗲 𝗰𝗼𝗻𝘁𝗲𝗻𝘁!
The French Institute in Myanmar is dedicated to offering you the best of French culture through online resources, to help you stay connected to France and its culture. The French Ministry of Culture started Culture at Home (https://www.culture.gouv.fr/Culturecheznous), a website that offers digital content sorted for different groups: young kids, parents and for everyone else. Scroll to the bottom of the website to find out more.
You can also find audiovisual resources on the websites of the main French cultural institutions, such as the Opéra de Paris (https://www.operadeparis.fr/), la Villette (https://lavillette.com/) and the National Audiovisual Institute (https://madelen.ina.fr/). The website www.openculture.com is another invaluable online resource and we will be sharing more online content in the coming days across our Facebook page and website www.ifbirmanie.org.
The French Institute remains available by email or phone:
– For general enquiries, you can contact us from Monday to Friday from 9am to 12:30pm and from 2pm to 6pm via email on 𝗰𝗼𝗻𝘁𝗮𝗰𝘁@𝗶𝗳𝗯𝗶𝗿𝗺𝗮𝗻𝗶𝗲.𝗼𝗿𝗴 or via phone on 𝟬𝟵𝟰𝟬𝟲𝟱𝟵𝟲𝟲𝟭𝟭 / 𝟬𝟵𝟰𝟬𝟲𝟱𝟵𝟲𝟲𝟮𝟮.
– For inquiries related to language courses, you can sign up for future classes (payment will be made at a later date) with the student affairs office, contactable from Tuesday to Saturday, 9am to 12:30pm and from 2pm to 6pm via email on 𝗰𝗼𝘂𝗿𝘀𝗲𝘀@𝗶𝗳𝗯𝗶𝗿𝗺𝗮𝗻𝗶𝗲.𝗼𝗿𝗴 or on 𝟬𝟵𝟮𝟲𝟮𝟲𝟭𝟭𝟰𝟯𝟴.