Electronic Music Concert – Pix'ART 2019
November 30, 2019 @ 8:00 pm

-

11:30 pm

Free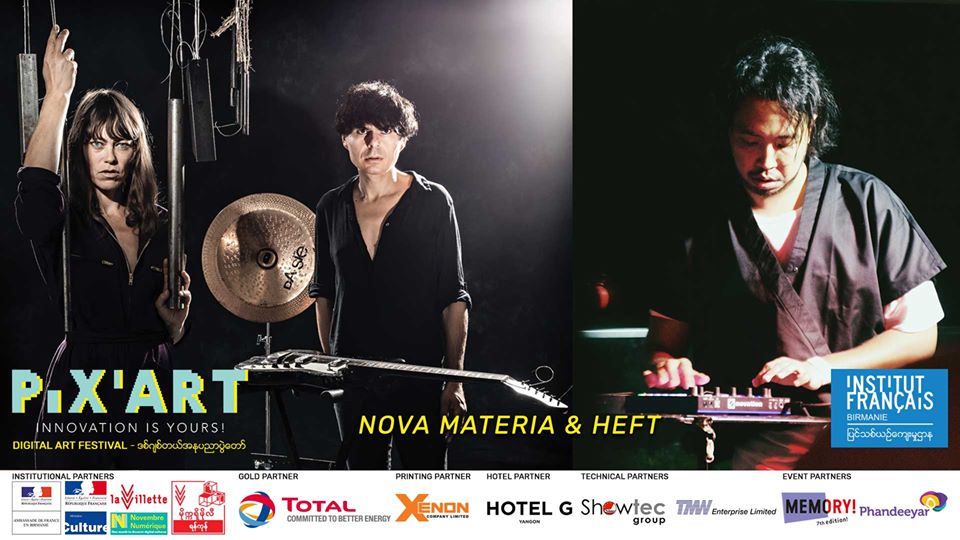 FRENCH ELECTRONIC BAND NOVA MATERIA & LOCAL BANDS
Nova Materia, a duet band with unusual instruments creating hyper-rhythmical, dreamy post punk rock and electronic dance music, will be playing along with Myanmar musicians in the form of visual arts & performance.
NOV 30th 2019 (Saturday)
8:30 pm – 11:30 pm
At IFB
5,000 Kyat per ticket
(Free entry for IFB's current students and volunteers of Pix'ART 2019 )
************
ABOUT NOVA MATERIA
Nova Materia is a duet formed by Caroline Chaspoul from France and Eduardo Henriquez from Chile. With them, nothing is usual: their instruments are steel tubes, iron plates, stones that get scraped or projected unto metal surfaces, guitars positioned horizontally and struck with mallets, as well as an array of electronic gear. They sing, chant or whisper mysterious lyrics and slogans (in French, English, Spanish and in imaginary tongues), which contribute to creating their own primal and futuristic mythology.
Another notable aspect of the band's work is their multimedia activity. They're regularly composing music for feature films (a.o. by Nabil Ayouch, Gael Garcia Bernal etc) and for brands. They recently collaborated with renowned writer Tristan Garcia to create a literary/musical 60-minute piece for national radio France Culture, entitled From The Stones' Viewpoint.
ABOUT HEFT (www.facebook.com/heftambient)
Heft is a moniker of another musical personality of Zwel Mun Wint from Myanmar who creates an electronic moody music, driven by the cinematic inspiration, post rock influences and techno centric composition. Over the course of his music career, he is responsible for the act of post rock scene by his band Pandelic in Yangon and he has been known for pushing limit and boundaries of music into different and endeavor sonic worlds.
The debut EP, Solicit was released under his own label, Urban Gut on March 3, 2019 and the record was heavily inspired by the movie, Annihilation from Netflix. This is just the beginning of a project and the future ahead is waiting for Heft to expand his horizon towards the global electronic music scene.