Drawing Freely – Exhibition of Cartoons
December 7, 2019
Free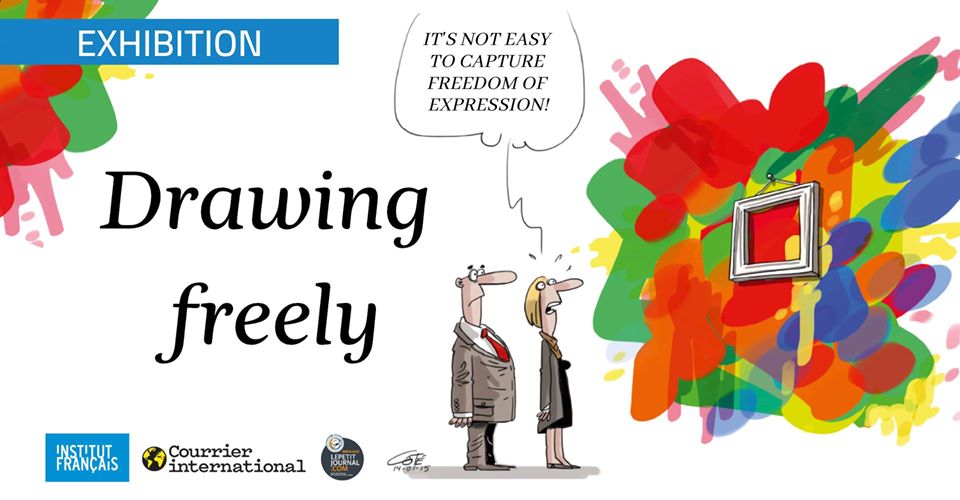 Drawing Freely – Exhibition of cartoons
December 7 to 22, 2019
9am to 8pm
The French Institute (IFB)
340, Pyay road, Sanchaung township, Yangon
Free entry for all.
'Drawing Freely' (Dessins en liberté) is an exhibition held in partnership with French newspaper Courrier International and the Institut Français. It consists up of 11 unique gallery walls, presenting the illustrations of 50 different cartoonists from around the world. Each board is dedicated to a specific topic, such as the Internet, corruption, censorship, racism and the environment.
The French Institute in Myanmar has worked with Myanmar cartoonists and the Myanmar Cartoonist Association to add local cartoons to the exhibition, touching upon each topic from a distinctly local perspective.
This exhibition invites visitors to reflect on the role of cartoons in political and social discourse, the way they're used in different countries and the importance of defending the freedom to draw. The famous French cartoonist Plantu once said that editorial cartoonists are the true "barometers of freedom of expression". The threats they face tell us about the climate of democracy in a country, the challenges that media and the press face in conveying information to citizens, and in reporting critically on issues of public interest.
As part of the 'Drawing Freely' exhibition program, a panel discussion will be held on Tuesday December 10th (Human Rights Day) at 7pm at the French Institute in Myanmar, gathering Myanmar cartoonists and journalists to reflect on satirical cartoons and freedom of expression.
FB event link: https://www.facebook.com/events/550799782424770/
[display-posts include_content="true" id="7295″]