Digital Risks: Panel Discussion – Pix'ART 2019
January 24, 2020 @ 12:00 am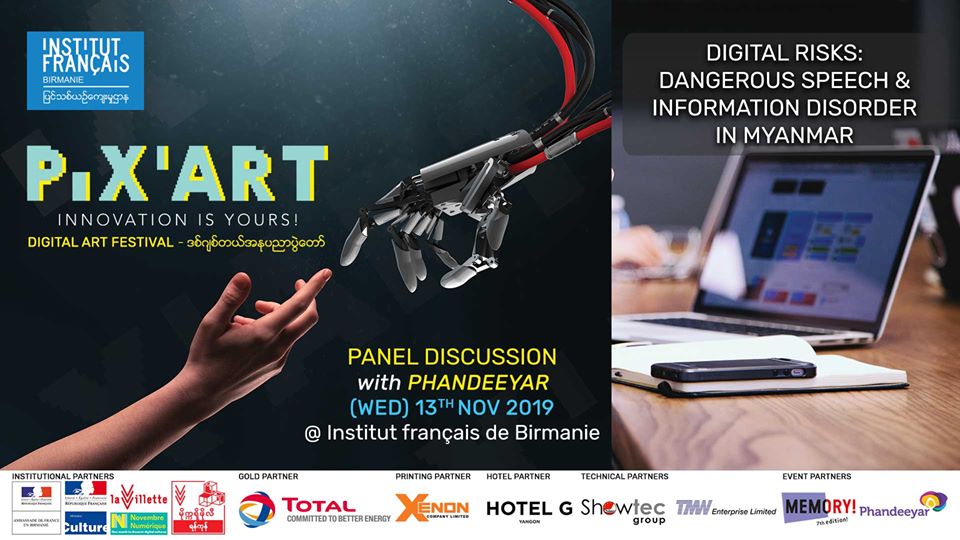 THE DISCUSSION WILL BE IN MYANMAR AND ENGLISH WITH CONSECUTIVE INTERPRETATION.
In a climate of ever-increasing fear and harassment online, the future of our digital discourse is under threat.
A panel of experts gather to discuss the new reality facing our social spaces online, and how incivility is having a unique impact on the people and politics of Myanmar. Is there anything we can do to address the seeds of disharmony sown online and begin to regain trust and fairness in our digital information age?
This event is part of Pix'Art, a festival dedicated to digital art, new technologies and innovation; organized by the French Institute in Myanmar.
Panelists:
– Phyu Phyu Thi is co-founder and program director of Myanmar ICT for Development Organization (MIDO), a digital rights organization promoting media and digital literacy. She is now researching misinformation and its impact on Myanmar.
– Zayar Hlaing, is the co-founder and editor of Mawkun Magazine, executive working committee member of Myanmar Journalist Network (MJN) and councilor at Myanmar Press Council.
– Aye Min Thant,Tech4Peace manager, leads a team at Phandeeyar, Myanmar's leading innovation lab, promoting safer and more inclusive digital spaces in Myanmar. Formerly, she was a Pulitzer Prize winning journalist who covered business, politics, and ethno-religious conflicts in Myanmar for Reuters.
Moderator:
– Myat Thu, Technical Advisor at the Myanmar Tech Accountability Network and co-founder of Burma Monitor, a not-for-profit organization that monitors hate speech and disinformation in Myanmar.
Please do not hesitate to share this information with your colleagues and friends who might be interested in attending.
Please RSVP to: culture@ifbirmanie.org
[display-posts include_content="true" id="7219″]