COMPETITION, organized by the French Institute of Myanmar for the invitation card of the 14th July 2020 ceremony (Bastille Day)
Call for participation
This year a drawing contest is open to illustrate the official invitation card of the French Ambassador for Bastille Day on the 14th July 2020.
Please see detailed rules and regulations below.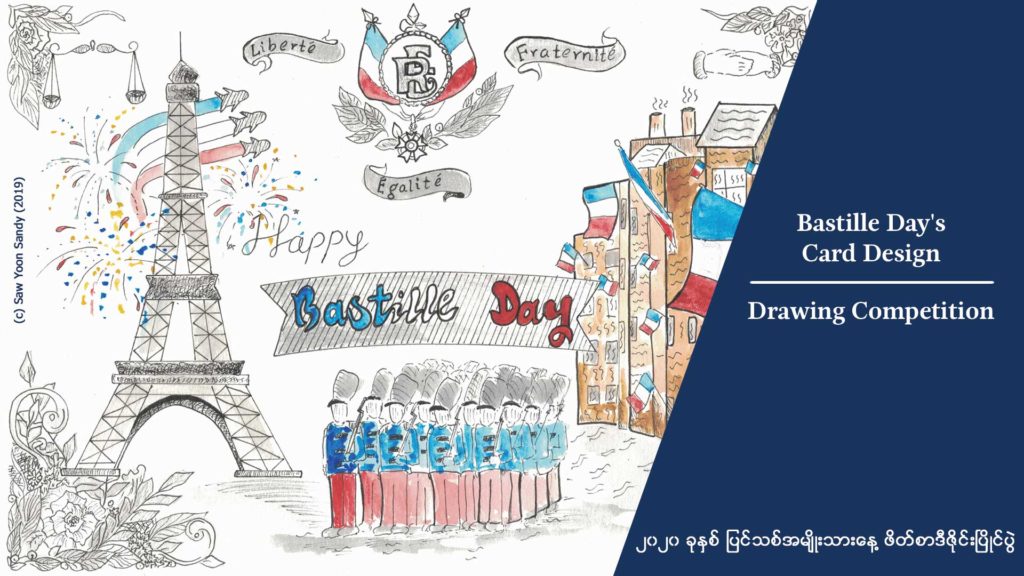 Regulations
Article 1: Participants
– The contest is open to anyone, professional or amateur artists, without condition of age or nationality. Individual entries or group entries are permitted.
Article 2: Theme
– The drawing will illustrate the concept of living in harmony and the motto of France: "Freedom, Equality, Fraternity".
Article 3: Technique and Format
– The color codes, "blue, white and red", shall be highlighted in the drawing.
– The participant is free to choose the drawing technique of his choice: drawing, watercolor, gouache, acrylic, oil, collage, etc.
– The production must be in landscape size A5, of a width of 21 cm and a height of 14.8 cm.
– 3D work is not allowed.
– On the back of the card, name, first name, age, address (website, phone, Facebook) of the author shall be described.
Article 4: Jury
– The jury is made up of artists, personalities and members of the French embassy. It will designate a laureate whose drawing will illustrate the invitation card which will be sent to the 1,200 Myanmar and international personalities and partners of the French embassy.
– The winning design will meet the following criteria: compliance with the format, illustration of one or three words of the motto "Freedom, Equality, Fraternity", aesthetic quality and originality, possibility of reproduction of the drawing.
Article 5: Award of the Prize
– All creations will be exhibited at the French Institute of Myanmar, 340 Pyay Road, Sanchaung, Yangon, from 1st to 7th April and from 1st to 15th July 2020.
– A public vote will be possible on the Facebook page of the French Institute of Myanmar until 7th April.
– The jury will award the prize to the winner with a reception at the French Institute of Myanmar. The winner will be invited to the official reception, hosted by the Ambassador of France on the 14th July on the occasion of Bastille Day.
– The selected creation will be published on the website of the French Embassy in Myanmar, the French Institute of Myanmar and their Facebook pages gathering more than 60,000 members.
Article 6: Submission of Works
– The designs shall be sent to communication@ifbirmanie.org or sent to the French Institute of Myanmar (340 Pyay Road, Sanchaung, Yangon) before 30th April 2020.
Article 7: Rights
– All participants shall authorize the French Institute of Myanmar to present, use and reproduce the winning design by any process, free of charge and non-exclusive, as part of the organization of Bastille Day 2020, hosted by the French embassy.
For more information; please contact the French Institute of Myanmar:
communication@ifbirmanie.org