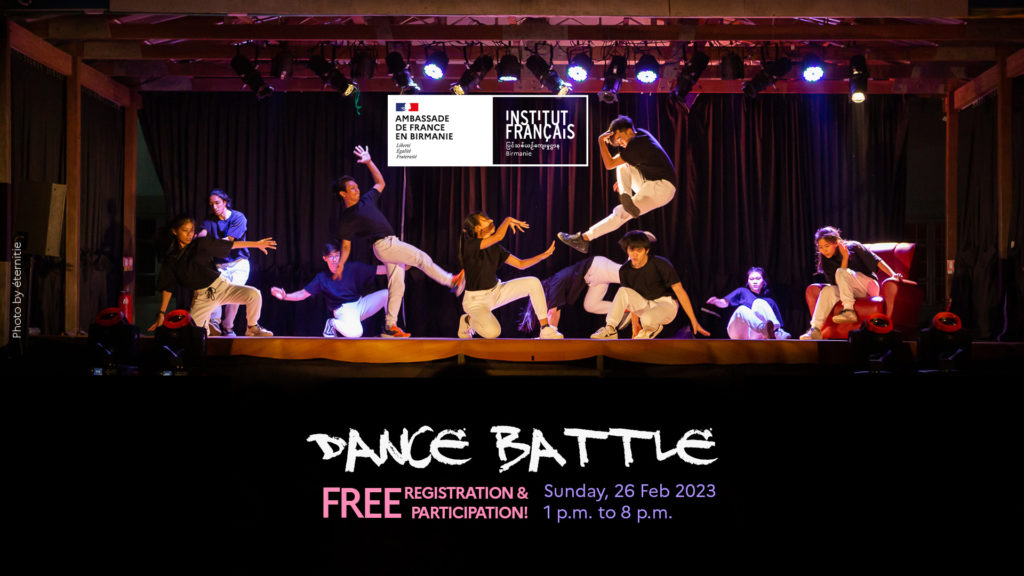 Dance Battle (Open Style)
Open style: one vs. one dance competition, organised by Institut français de Birmanie.
Date: Sunday, 26 February 2023
Time: 1 p.m. to 8 p.m.
Venue: Institut français de Birmanie
Judges: Falcon, Thant Zaw YGND Art, and B-Boy Phyo Thu
MC: James
DJ: DJ Bzy
Free Entry
Food & Drinks Available to purchase at Pann Chan Café
Institut français de Birmanie is bringing dance culture from the streets to the stage and creating an opportunity for youth to showcase their dancing talents.
The exciting competition is formatted as one vs one battle through preliminary rounds at the institute compound before finally selecting the top 16 for the final battles.
Our judges who are already recognized as the pillars of the dance community in Myanmar will deliberate the winners of each battle to go through the next rounds until the final two are left standing to compete for the winning prize.
The purpose of the event is to encourage the expressive spirit of the young dancers and to strengthen the existing dance community. Come and be inspired by the new generation of talents.
‼️ Online Registration: Open from 3rd February 2023. Register now at t.ly/b4Su
‼️ Only the first 64 registrations will be accepted. For those who are unable to register in time, the second chance is still there on the event day itself on which a walk-in registration is open in order to be on the waiting list.
📌 Battle Programme
1:00 p.m. – Door opens for last-minute walk-in registration on site (only as wait-list)
3:00 p.m. – Registration Closes and Cypher starts
3:30 p.m. – Preliminary Battle Rounds commence
5:30 p.m. – Top 16 selection and battles
6:30 p.m. – Quarter Finals
7:00 p.m. – Semi-Finals
7:20 p.m. – Judges showcase performances
7:30 p.m. – Final Battle
7:45 p.m. – The Winner Prize Presentation